Discover our Platform
Our award-winning platform allows you to monitor and manage all your clients' investments with ease
Introducing the 7IM platform
Discover more about our service-led, forward thinking and scalable platform for intermediaries and how it's shaped around you.
Looks interesting?
Request a demo at a time that suits you.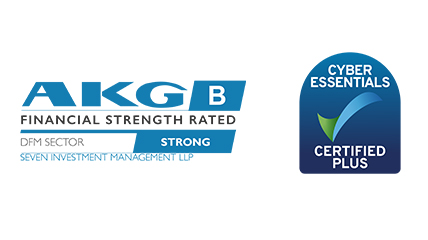 7IM Platform in numbers
31 May 2022
Easy to do business with
Superior service and convenience are always priorities for us, so you can tailor the platform to the way you want to do business. Our platform streamlines your admin, connecting to all leading back-office and data services, allowing you more time with your clients.
Value for money
We're always cost conscious – the 7IM Platform is responsibly and competitively priced. You'll also gain access to the 7IMagine app, where you can conduct reviews and create bespoke cashflow plans for your clients.
Keeping assets secure
Assets are held in custody with Pershing Ltd, whose parent, BNY Mellon, is an AA-rated bank and one of the world's largest custodians.
Expertise and a personal touch
Our dedicated and experienced Platform Team are here to help you, getting to know you and your business and adapting the service to fit your needs.
Bespoke reporting and client engagement
You'll benefit from a comprehensive suite of reporting tools that can be tailored to your advice process and your clients' needs.
Responsive to change
Proprietary technology allows us to be responsive to changes and adapt to you and your clients' evolving needs.
Open architecture technology
The ability to use in-house and external tax wrappers including:
Investment accounts
ISAs and Junior ISAs
7IM SIPP or 3rd Party SIPP
Onshore and Offshore Bonds
Trusts
Corporate or Charity
Offshore Custody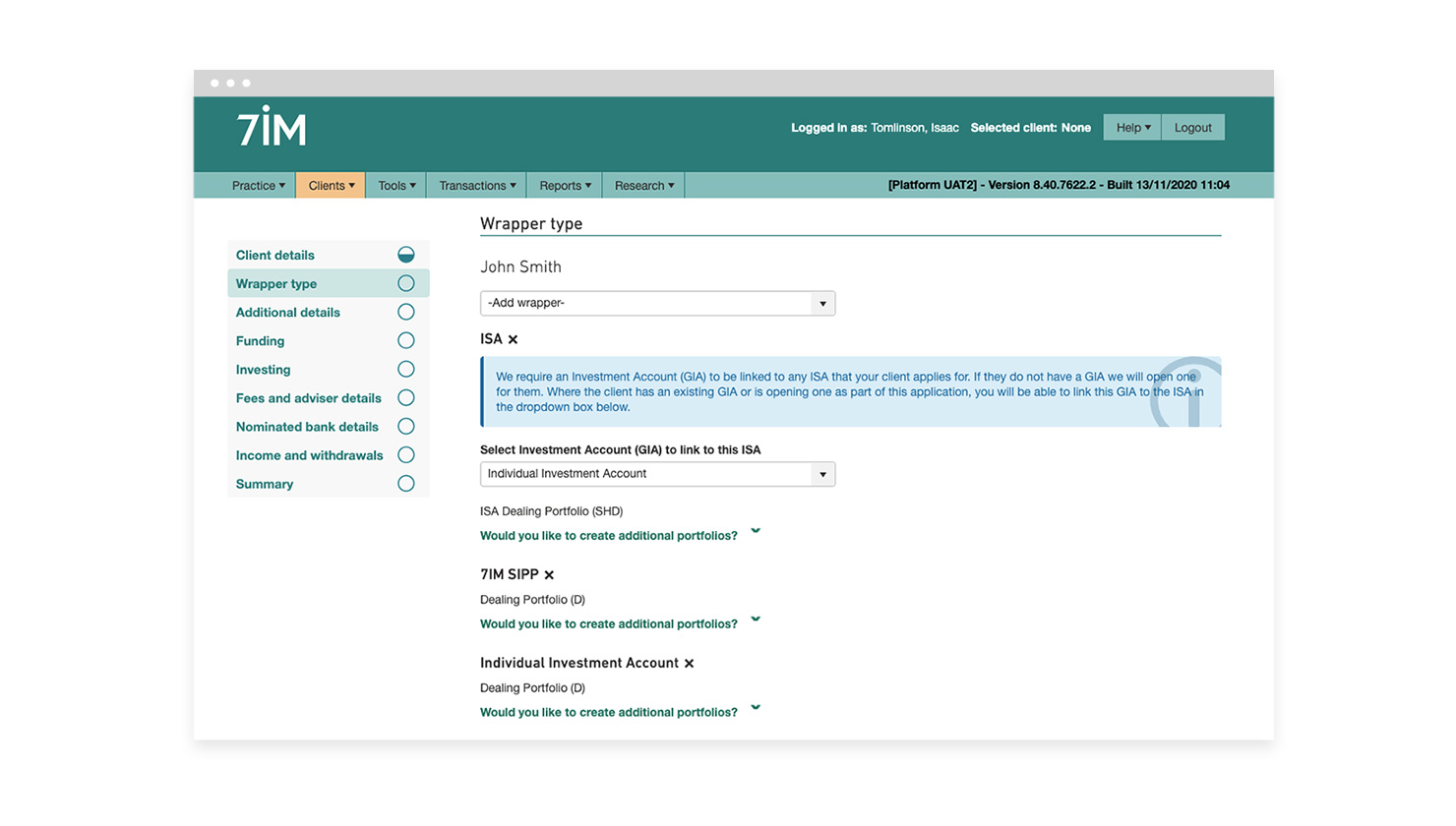 Investment choices
Whole of Market Investment Options
Bespoke Portfolios
Adviser in house discretionary/advisory models
3rd Party Model Portfolios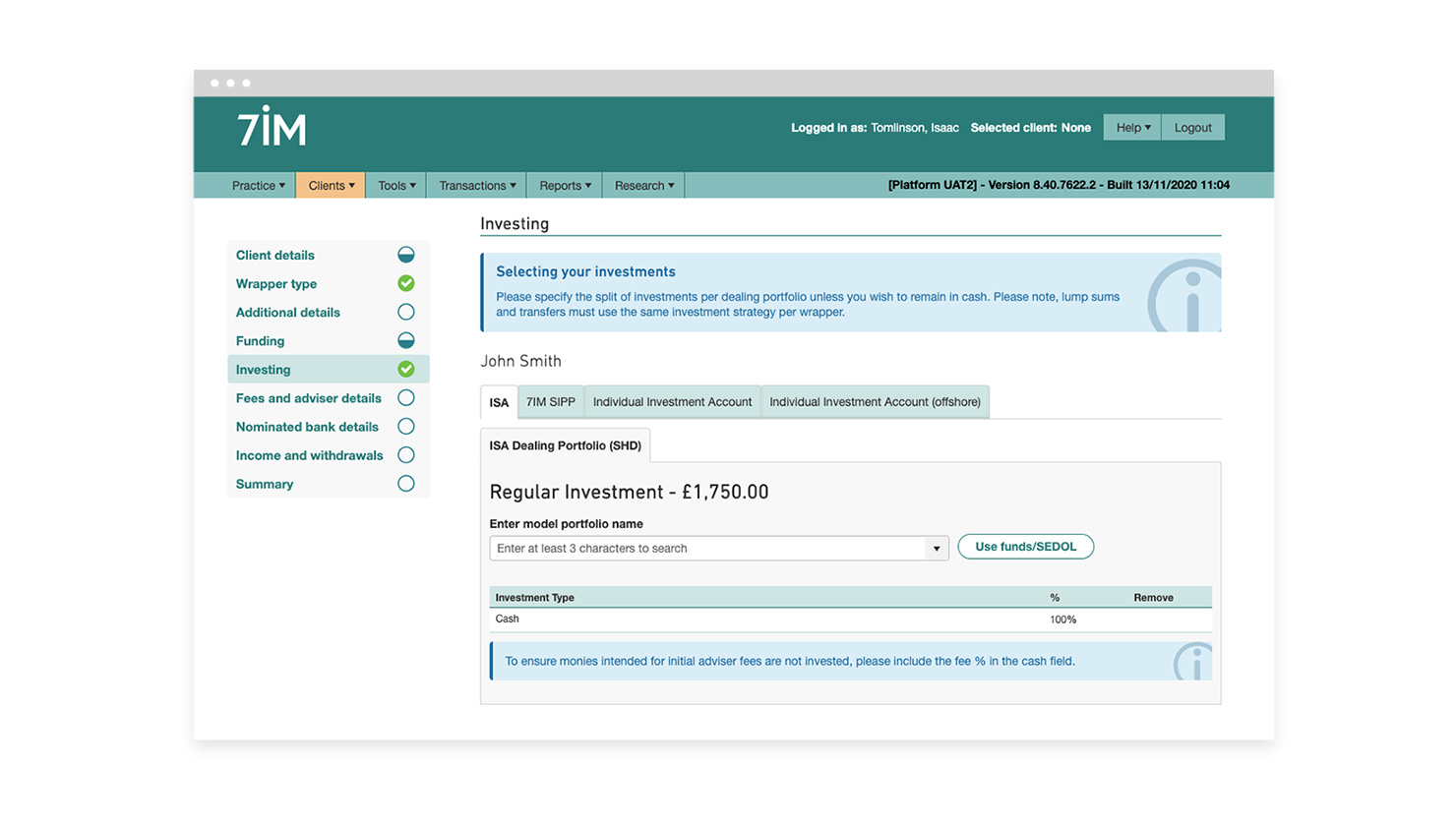 It's in the bag – Professional Adviser Awards 2022
At 7IM we're ecstatic to win the Best Platform for Advisers (below £25bn AUA) in this year's Professional Adviser Awards.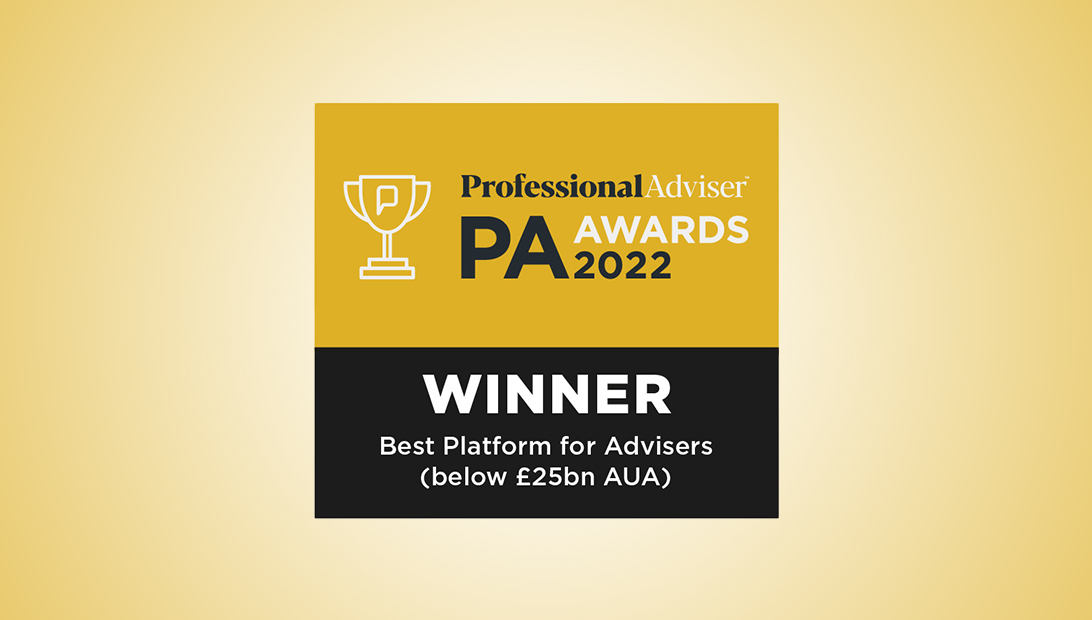 What are the 7IM Platform fees and charges?
We have a tiered charging structure for the 7IM Platform as shown below. For a full breakdown of the costs associated with the 7IM platform, please view the fees and charges sheet, or get in touch with a member of our team.
| Portfolio Value | Platform Service Fee (per annum) |
| --- | --- |
| On the first £500,000 | 0.30% |
| On the balance of £500,000 to £1,000,000 | 0.25% |
| On the balance of £1,000,000 to £2,000,000 | 0.15% |
| On the balance of £2,000,000 to £5,000,000 | 0.08% |
| On the balance over £5,000,000 | 0.05% |
Call us
Want to arrange a demo or know more about the 7IM Platform? Get in touch with our team today.
Email us
Want to arrange a demo or know more about the 7IM Platform? Get in touch with our team today.
Complete our form
If you would like our team to call you back complete our form and we will get in touch.
Financial Intermediary
I confirm that I am a Financial Adviser, Solicitor or Accountant and authorised to conduct investment business.
If you do not meet this criteria then you must leave the website or select an appropriate audience.