Taxable Accounts (GIA)
We have a range of reports and tools to help you manage your clients' Capital Gains Tax (CGT) allowance.
Clients who hold assets in their individual and joint General Investment Accounts (GIAs) can make use of their £12,300 CGT allowance.
In the client account area of our platform you'll find a CGT page with two sections:
Unrealised Gains
Here you can:
See a summary of the client's CGT position so far (which can be exported into Excel)
See the notional gain/loss for each fund (which can be useful in calculating how much of which funds to sell to use up the client's CGT allowance)
Edit the CGT allowance (for example if the client has used it up elsewhere)
Edit the Loss Brought Forward (for example if your client has made a loss elsewhere that you would like to take into account with the CGT calculations)
Edit the book costs of any funds that have been transferred in-specie. This is important to make the CGT calculations as accurate as possible and should be done before you dispose of any holdings.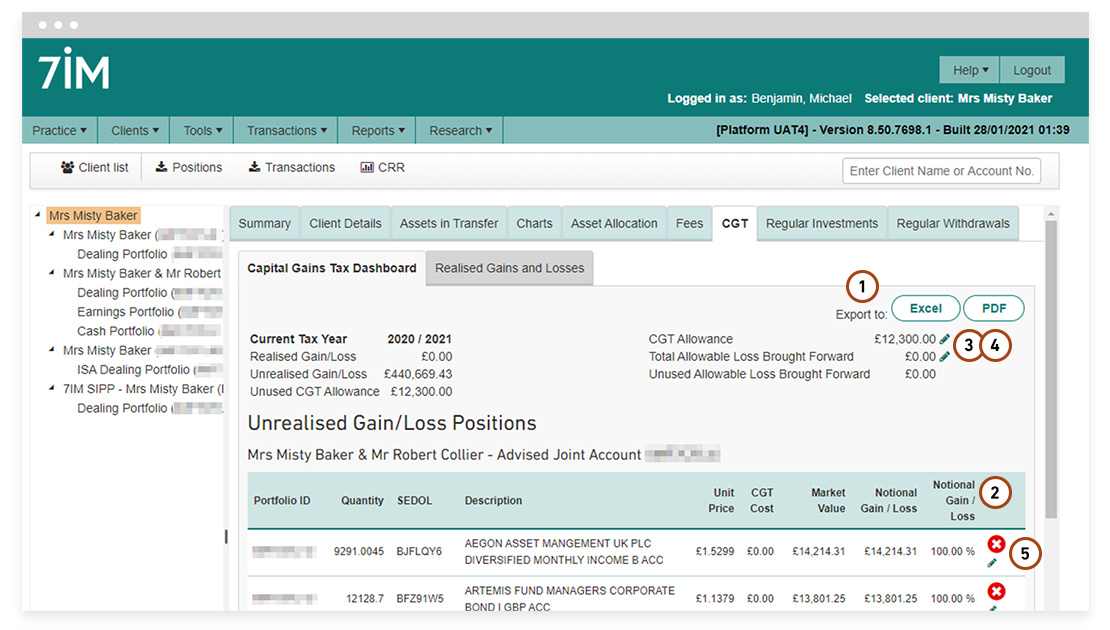 Realised Gains
Here you can:
See a summary of the client's realised gains and losses so far and the net amount chargeable to CGT (which can be exported into Excel)
See a detailed breakdown of the gains or losses by fund (including 30 day rule)
Download CGT reports for previous tax years.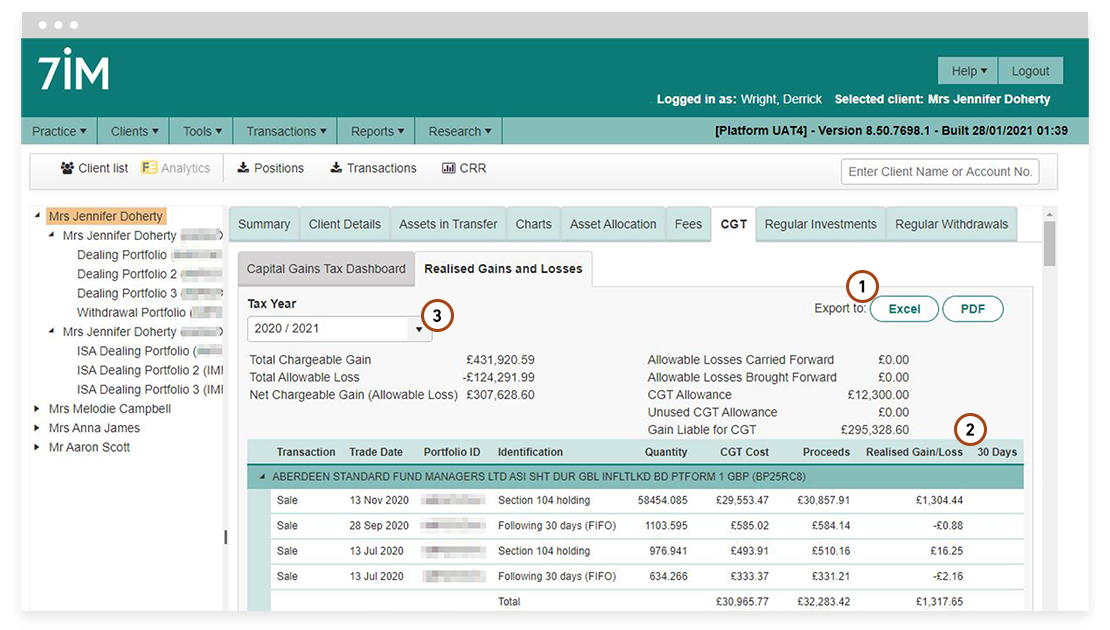 Further information
Please note that all forms can be signed electronically by your client using a recognised e-signature system such as Docusign or Adobe sign.
You can download a CGT summary report from our platform covering all your clients: Reports > Tax > CGT Reports > All Clients CGT Report
In order for a disposal via our platform to count towards the 2020-21 tax year, it must be executed by the fund manager before the close of business on Thursday 01 April (the trade does not need to have settled by then). For the majority of funds that price at midday each day, this means the deadline for sales is 11am on Thursday 01 April (but please check the dealing time for any fund you are selling and place trades at least an hour beforehand to ensure they get traded in time).
If you are using our bed & ISA tool to sell assets in a GIA to fund an ISA or Junior ISA subscription, this should be done by 2.30pm on Friday 26 March.
CGT information is also available online to clients on our client portal. For a client facing guide to CGT click here.
For information about gains and losses in taxable non-personal accounts (such as trusts or corporate accounts) please contact us.
Contact the Platform Services Team
Please select your region below to find the best team to help you.
Financial Intermediary
I confirm that I am a Financial Adviser, Solicitor or Accountant and authorised to conduct investment business.
If you do not meet this criteria then you must leave the website or select an appropriate audience.