Verona Kenny wins Investment Woman of the Year
7IM is delighted to announce that Verona Kenny, Managing Director, Intermediary, has won Investment Week's Investment Woman of the Year (small to medium firms) award, in recognition of her ongoing efforts in the industry.
On her win, Verona said: "It's a real honour to be awarded this accolade, and I hope that it inspires those that are early on in their careers to push for excellence. If I can do it, others certainly can!"
Following the tremendous achievement, Verona outlines why this win plays such an important part in acknowledging the role women play in the investment sector and how events, such as this, will support the drive for further diversity and inclusion in the market.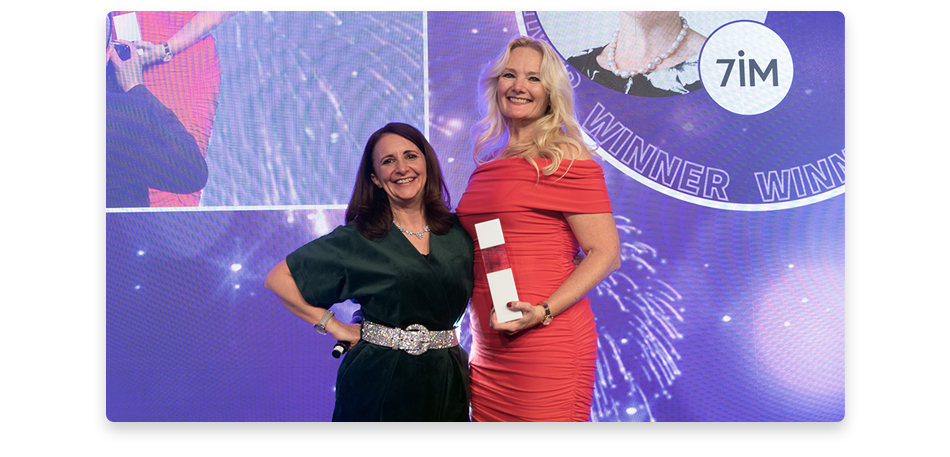 What does this win mean for you?
"It's a real privilege to have won the award. The calibre of the women that were nominated was incredibly high, and to have been selected out of that fantastic group was remarkable. Having won Woman of the Year – Platforms last year, to now be recognised as Investment Woman of the Year (small and medium firms) this year, is amazing, and to see so many women come together for the event instilled a great sense of belonging."
What is the importance of being recognised?
"The investment world is still largely male-dominated, so to see so many women recognised for their contributions is magnificent. However, we are still working to improve the number of women in the space and my hope is that we eventually reach a point where men and women will be recognised as 'Investment Professionals', rather than having individual awards evenings. It's exciting to be a part of the industry at the moment, while things are changing in such a positive way."
What are we doing at 7IM to support and promote Diversity & Inclusion?
"As Chair of both 7IM's Diversity & Inclusion Committee and Culture and Sustainability Committee, I've been absolutely blown away by the dedication and commitment of each individual, both sitting in the committees and the broader 7IM team. Both committees have been created to drive change across our business, and it has been embraced wholly by our members."
What message would you like to send those in the industry?
"I hope that I, and the other winners, can inspire others to also push for positive change in the market, and win awards such as this one. I hope that younger professionals are motivated by these achievements and I'm excited to see how these events progress in the future."